The Lead Gen & CRM Utilization Score shows the percentage of Lead Gen & CRM features that your company is using, along with what you may be missing out on.

You will find a total score for usage of Lead Gen & CRM, along with sectional scores divided across areas of the platform. These scores help you to leverage features that will enhance your marketing automation efforts and further grow your business. Lead Gen & CRM created the Utilization Score as a ways to help you learn to best use the tools in the platform.

This article provides an overview of the Utilization Score.
---
Article Contents
Available With:
| | | |
| --- | --- | --- |
| Trial | ✓ | |
| Essential | ✓ | |
| Advanced | ✓ | |
| Ultimate | ✓ | |
Toolbar:

Settings
Users:
| | | |
| --- | --- | --- |
| Administrators | ✓ | |
| Company Managers | ✓ | |
| Marketing Managers | ✓ | |
| Sales Managers | | |
| Salespersons | | |
| Jr. Salespersons | | |
---

How the Utilization Score Works
Your Utilization Score starts out low. To raise your Utilization Score, you will need to complete certain activities within the Lead Gen & CRM application. These activities cover the features of the application, such as creating dynamic lists or sending emails to your leads.
There are four levels you can achieve for your total Utilization Score, each with its own icon:


Icon
Level Name
Total Score


Click to enlarge.

Dragon
91%–100%
Tiger
51%–90%
Rabbit
25%–50%
Grasshopper
0%–24%
The Utilization Score widget in your
User Menu panel reflects your current total score. The icon will change as your total Utilization Score changes. Clicking the icon's linked name will display several sectional scores.
Each score has its own maximum value that can be achieved. You will need to complete these activities within each section to help promote features you may or may not have been aware of.
The sections are:

Landing Pages
Forms
Automation
Media Center
Sales
Agency

Email
Analytics
Lead Scoring
Personas
VisitorID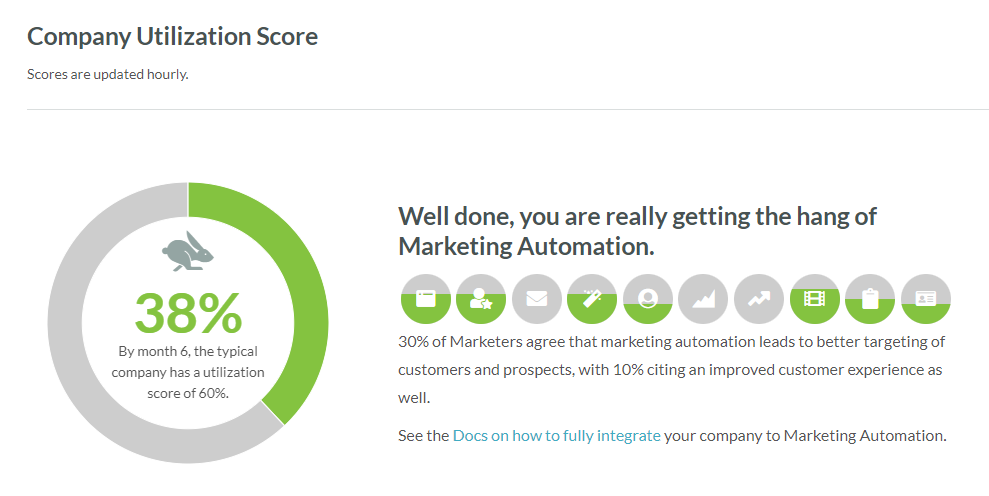 Each section will show which activities you have completed, as well as those you have yet to accomplish. The individual activities in each section have different scoring weights. The more you accomplish, the higher the score. That said, certain activities may have no impact on the overall section score.
Every hour, Lead Gen & CRM recalculates your company's Utilization Score. If there is a change, the score is updated in your instance. As such, if you have completed activities to raise your score, the change might not be displayed immediately and will instead be part of the hourly update.
---

Viewing the Utilization Score
To view your Utilization Score, do the following:
Click User Menu in the top toolbar.
Click the individual section icons, or scroll down the window to view each section.



Click to enlarge.

Click the Subtopics drop-down menu in the desired section.