| | |
| --- | --- |
| | Let Us Know: We do our best to keep our 3rd party installation instructions up to date and accurate, but sometimes platforms change their site layouts/functionality and our instructions become outdated. If you feel the instructions we provide for your platform are inaccurate, please let us know and we'll make sure to review! |
Lead Gen & CRM Ads has partnered with BigCommerce to make setting up tracking, ads, and campaigns for your BigCommerce store one smooth process. These few steps will have your retargeting campaigns up and running in no time.
From your Dashboard, click Settings.

From the dropdown, select BigCommerce Set Up.
Click Connect BigCommerce.
Click Login and enter your BigCommerce credentials if needed.
Check the box to agree to the terms and click Confirm.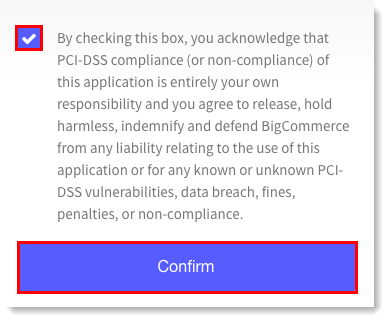 After you confirm, our tracking code will be installed on your store website and we'll start importing your product feed.
You'll be taken back to your main Lead Gen & CRM page. Go to Settings and select BigCommerce Set Up from the dropdown.
Next, you'll want to upload your store logo to use in your ads. Select Choose File. (Your logo image must be PNG, JPG, or GIF, 150kb max file size.)
Your product feed will be automatically processed from BigCommerce.
Conversion Tracking
After you finish installing the BigCommerce app, we'll automatically create a conversion goal for you called "Purchase." This will track any purchases we attribute to ads run through your Lead Gen & CRM Ads campaign. You can find this conversion goal under Manage > Conversions.
You're all set! You can create your dynamic ads under Manage > Create Ad, then you're ready to launch a dynamic campaign.
Uninstalling
If you no longer wish to track users or products from your BigCommerce store, follow these instructions to remove our app and code:
Go to your BigCommerce settings, and click the Apps tab.
Click on the Lead Gen & CRM (SharpSpring Ads) app.
Click Uninstall.
This will remove all tracking and connection from Lead Gen & CRM. For more information about removing apps, view BigCommerce's Support.
If you have any problems, email ads@constantcontact.com.